Have you tried EVERYTHING to GET MUSCLE PAIN RELIEF?

YOU'RE NOT ALONE.
The Mobility Pain Relief Program isn't focused on just temporary pain relief. BUT prevent it from coming back. This will be your complete solution to living pain free.
WHY WILL THIS TIME BE DIFFERENT?
If you've tried everything including painful surgeries, addictive pain pills and all the free youtube pain relief exercises with minimal to no real lasting results, then this could be the solution you've always needed. This complete mini program provides your foundation to full pain relief. Other programs only focus on one aspect for pain relief and it's usually flexibility. They neglect 2 other equally vital components for complete pain relief and prevention, MOBILITY and STRENGTH beyond just the area of your pain.
Imagine lifting your kids without back pain. Imagine walking without knee pain. Imagine your life moving without pain.
You won't have to imagine anymore. I want to make it 100% clear you will be more active and more energetic leading to having more fun in your life. Which is why I created this Mini Mobility Pain Relief Program specifically for the areas of your Hips, Knees and Ankles. It's time you bullet proof your body for life.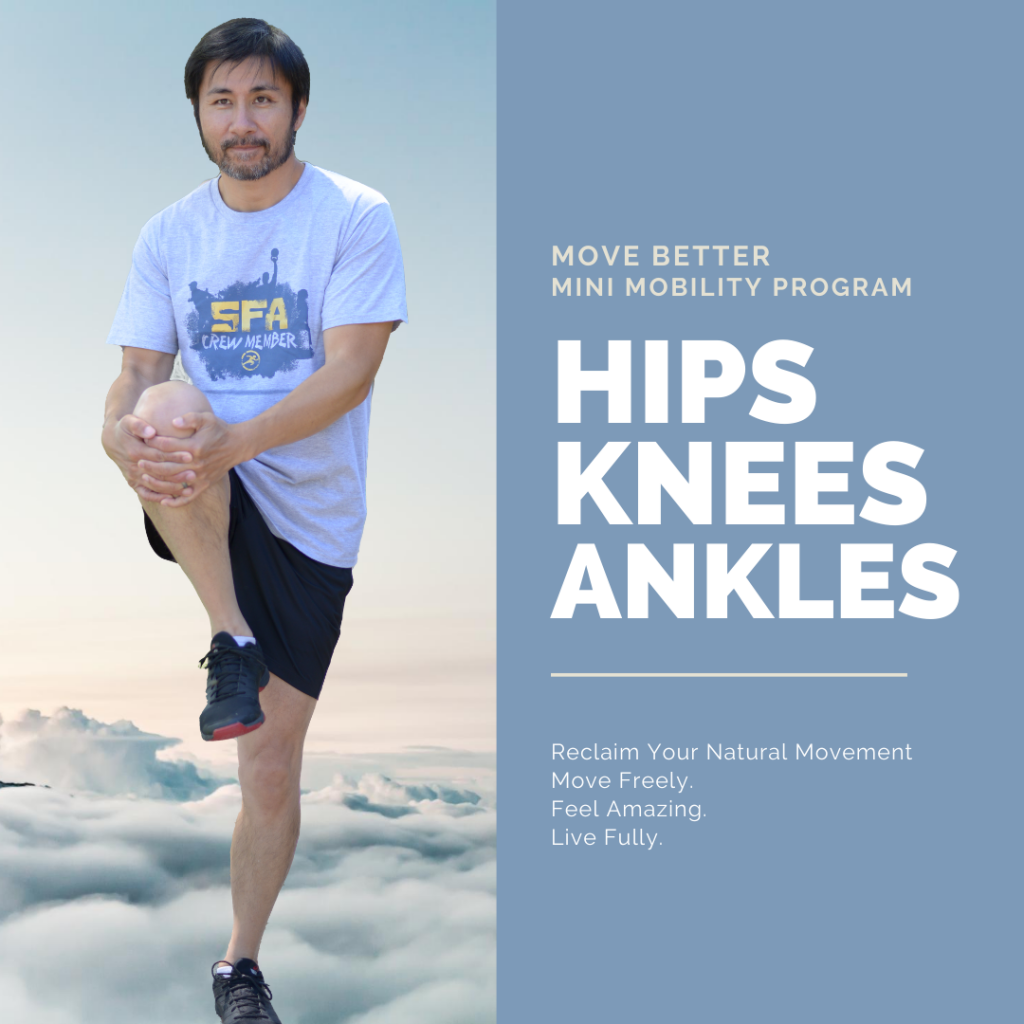 Included in this program:
Hip and Ankle Self Tests to track progression
Mobility Exercises to target hip, knees and ankles
Strength Exercises to stabilize and strengthen joints
Flexibility Exercises to lengthen muscle fibers
Private Support Group
Only $15
---
HOW WILL THIS WORK?
Because the hip joint is your central joint, it is more stable than mobile. It's also more prone to fracture than dislocation and is a common health problem associated with aging and overuse.
Restoring hip mobility will help in several areas. It helps to reduce lower back, knee and ankle pain stemming from overcompensation. It will improve your muscle stability by allowing you to fully engage your posterior chain (back leg muscles) to adequately move without muscle compensation and imbalance.
---
4 WAYS TO IMPROVE YOUR MOBILITY
Test Your Mobility.
You need to have a starting point for your mobility. This allows for continual feedback of your mobility program. To make it easy for you, I have included a self hip and ankle mobility test which you can self assess weekly to ensure you are seeing improvements.
Mobilize Your Joints.
Performing multi-range movements directed by your joints will help prevent injuries. Moving your joints will begin to release tension around your surrounding primary muscles and lubricate your joints. The synovial fluid which is surrounds most of your joints, will be spread around to bring oxygen and nutrients to your cartilage. This helps to keep your joints strong and healthy.
Strengthen Your Muscles.
Stronger ligaments and muscles help stabilize your joints. Strength training after mobilization of your joints help to reinforce the improved range of motion and function. This will further help to prevent injury, muscle compensation and joint pains when your move. An added bonus of strength training it stronger bones due to loss of bone density as you age.
Stretch Your Muscles.
Lengthening your muscle fibers leads to better mobility. When you mobilize your joint and strengthen the muscles around it, keeping your muscles flexible will ensure your mobility is not lost. As you age muscle fibers shorten. As you strength train, muscles fibers contract. Static stretches for your muscles completes the cycle of a well rounded mobility program.
Don't let Pain Rule your Life. Take Charge Now!
---
Move Freely. Feel Amazing. Live Fully.
Legal Information
PRODUCT DISCLAIMER: The Move Better Mini Mobility Program is a digital product (i.e., downloadable). No physical products will be shipped. After you order, you will get INSTANT ACCESS to download the e-book files and access to video files to view on your computer and mobile devices. The e-book format is Adobe Acrobat PDF and the video files are in MP4 format, all of which can be viewed on any PC or Mac computer (desktop or laptop). You can also view and use the files on iPads, iPods, and most mobile devices (i.e. smart phones), but you may need an app to use some of the files (e.g. to read Adobe Acrobat PDF e-books). You will also receive access to the private Facebook support community.

RESULTS DISCLAIMER: Due to recent FTC laws, it is required that all companies identify what a "typical" result is. As with any fitness program, your results may vary, and will be based on many factors including your individual capacity, previous experience, ability to take action and level of desire. There are no guarantees concerning the level of success you may experience. The testimonials and examples used are exceptional results, which do not apply to the average purchaser, and are not intended to represent or guarantee that anyone will achieve the same or similar results. Each individual's success depends on his or her background, limitations, dedication, desire and motivation.

There is no assurance that examples of past pain free muscle and joint movements can be duplicated in the future. We cannot guarantee your future results and/or success. Nor can we guarantee that you maintain the results you experience if you do not continue following the program. We are not responsible for your actions. Faster results upon first starting the program are common, especially for beginners to exercise and strength training. But the truth is that most people never do anything with the fitness products they buy. So, most of the time, they don't get any results at all.