Live Your Life Moving PAIN FREE!
To live is the rarest thing in the world. Most people exist, that is all. – Oscar Wilde
WHY IS YOUR TRUE MOBILITY SO IMPORTANT?
Remember the days when tying your shoes or washing your hair didn't cause you pain. Now you're dreading to do the simplest of tasks and creating harmful muscle imbalances with movement compensations. The more you detour away from you natural movements the greater your chance of inducing more muscle pains and increasing the risk of injury.
WILL STRETCHING HELP?
Stretching is a popular choice. But unfortunately while stretching may create some relief, trying to correct poor mobility and prevent pain, the results are usually short lived. That's because stretching alone only 'temporarily' allows access to greater range of motion and pain relief. This is quickly reversed if it's not accompanied with some kind of specific muscle strengthening work followed by flexibility conditioning.
Imagine waking up without wincing from back pain. Imagine washing your hair without shoulder pain. Imagine sitting without hip and and knee pains.
I want to make this a reality for you. I want to provide you the building blocks to reclaim your natural movements so you can move without pain. This why I created the MOVE BETTER MINI MOBILITY PROGRAM SERIES. A self treatment program which addresses not only the pain but also the cause and the symptoms. This self assessment and self treatment program series is divided into two programs. One specifically for your lower body focused on the hip, knees and ankles and one for your upper body, back neck and shoulders. It's your time to finally to stop existing and start living.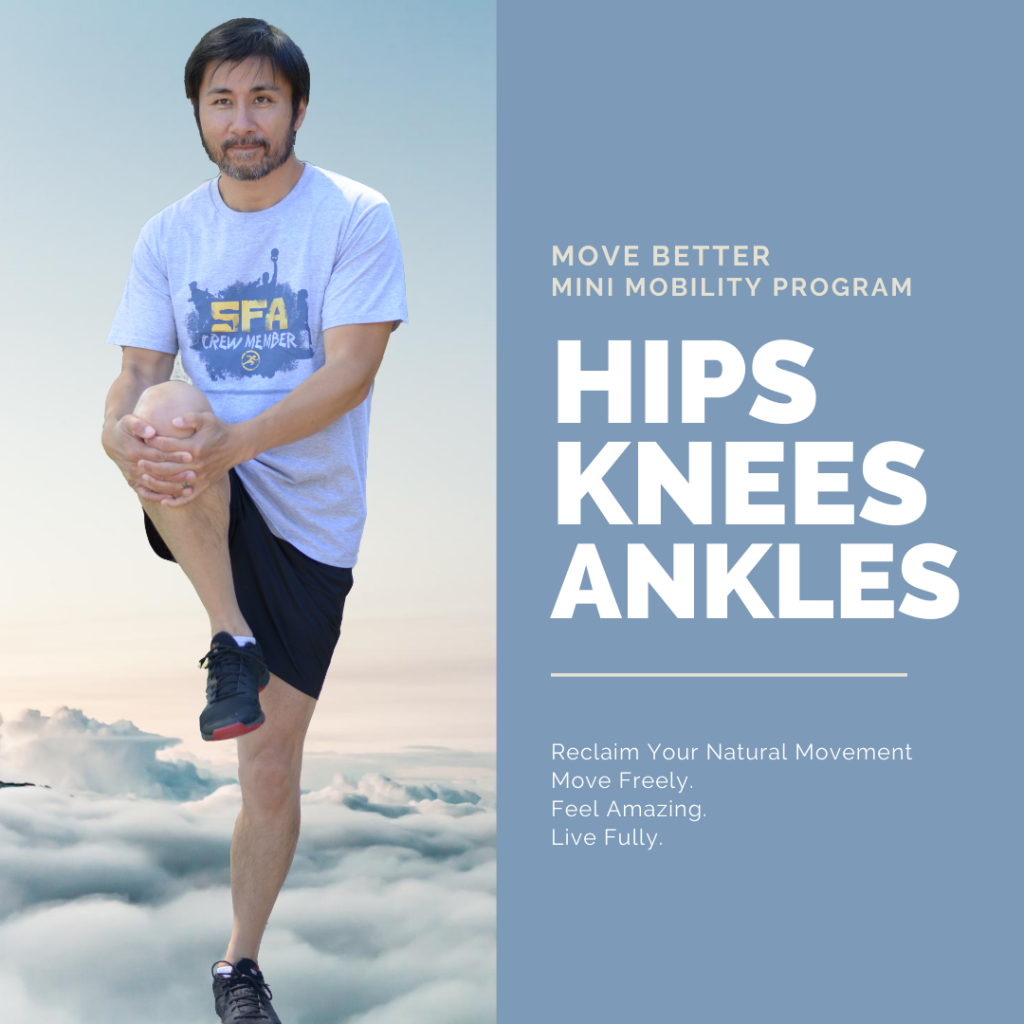 Mini Mobility Program for Lower Body
Included in this program:
Hip and Ankle Self Tests to track progression
Mobility Exercises to target hip, knees and ankles
Strength Exercises to stabilize and strengthen joints
Flexibility Exercises to increase range of motion to prevent pain
Only $15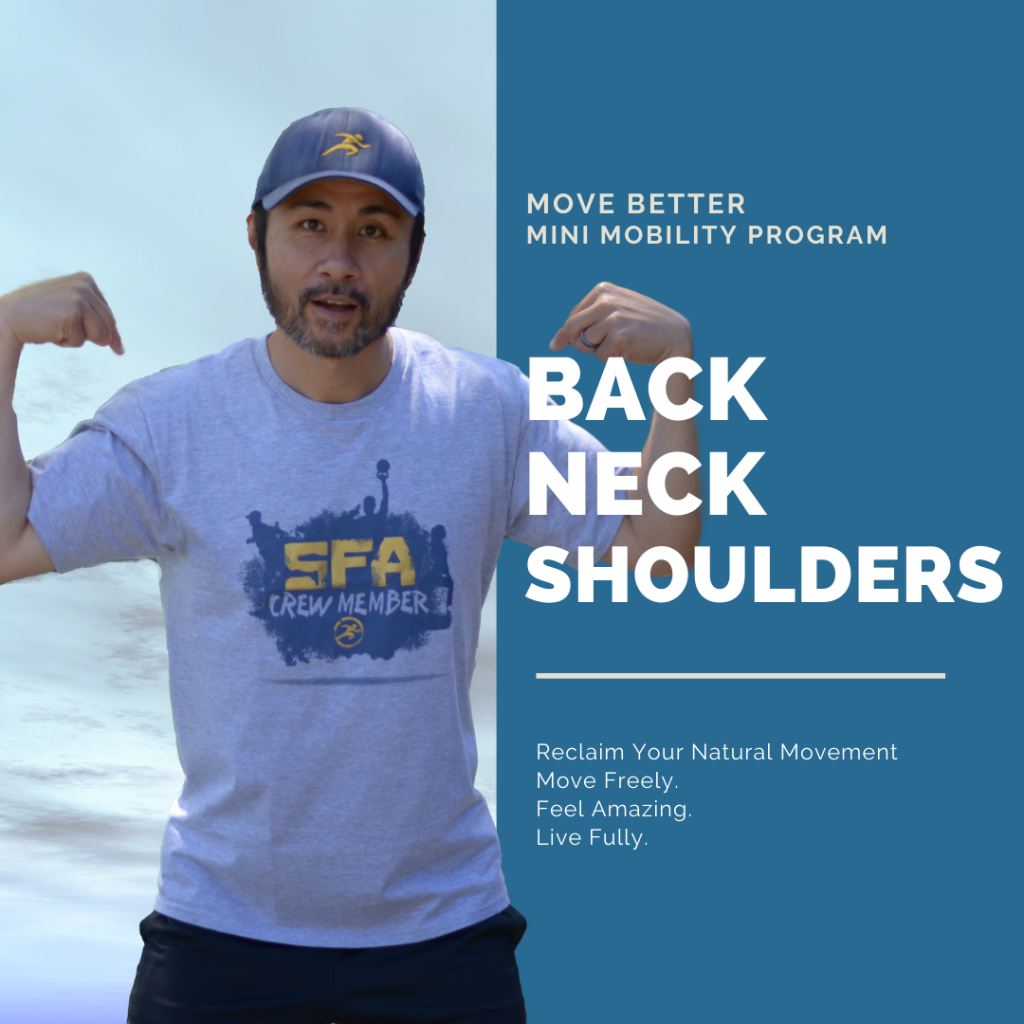 Mini Mobility Program Upper Body
Included in this program:
Shoulder Thoracic test to track progression
Mobility Exercises to target back, neck and shoulders
Strength Exercises to stabilize and strengthen joints
Flexibility Exercises to increase range of motion to prevent pain
Only $15
Why will this work?
The Move Better Mini Mobility Programs addresses areas of pain, the causes and symptoms. These self assessment and self treatment programs includes 3 vital pillars to relieve and prevent further muscle and joint pain. MOBILITY. STRENGTH. FLEXIBILITY. Most programs only focus on the pain relief. While this is satisfying and desperately needed, it is also temporary. You don't want the pain to keep coming back and again.
This is your complete system to begin RELIEVING and PREVENTING your muscle and joint pains.
---
HOW YOU CAN IMPROVE YOUR MOBILITY?
…with these 4 Simple Steps.
1) Test Your Mobility.
You need to have a starting point for your mobility. This allows for continual feedback of your mobility program. To make it easy for you, I have included a self assessment mobility test you can track weekly to ensure you are seeing improvements.
2) Mobilize Your Joints.
Performing multi-range movements directed by your joints will help prevent injuries. Moving your joints will begin to release tension around your surrounding primary muscles and lubricate your joints. The synovial fluid which is surrounds most of your joints, will be spread around to bring oxygen and nutrients to your cartilage. This helps to keep your joints strong and healthy.
3) Strengthen Your Muscles.
Stronger ligaments and muscles help stabilize your joints. Strength training after mobilization of your joints help to reinforce the improved range of motion and function. This will further help to prevent injury, muscle compensation and joint pains when your move. An added bonus of strength training it stronger bones due to loss of bone density as you age.
4) Stretch Your Muscles.
Lengthening your muscle fibers leads to better mobility. When you mobilize your joint and strengthen the muscles around it, keeping your muscles flexible will ensure your mobility is not lost. As you age muscle fibers shorten. As you strength train, muscles fibers contract. Static stretches for your muscles completes the cycle of a well rounded mobility program.
Don't let Pain Rule your Life. Take Charge Now!
---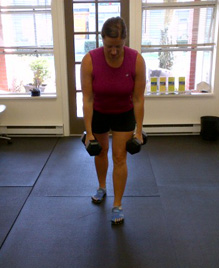 I was hesitant to try anything new, yet along a mobility program. But I felt it was time and I was fed up with back pain, poor posture and no energy. As a former competitive swimmer, it was hard to accept how out of shape I had become and how I couldn't push through the pain.
The changes have been an eye opener. Movements I once took for granted…as an example, I find it easier to pick myself up off the floor after playing with my nieces and nephews. Other changes have had a bigger impact. A year ago, due to back pain, I had difficulty getting out of bed and taking the first few steps in the morning. Now, I only experience a little discomfort…usually when I haven't followed through on my mobility routines. One of my goals was to get back into playing squash, without injuring myself. I'm happy to report that I am actively playing and thoroughly enjoying it. I can't honestly believe it.
I also like Joe's focus on functional pain free movements and allowing the body to respond properly. My sister-in-law, a physiotherapist, was impressed too with the exercises and mobility program I told her I was doing. I still have goals to meet, however with a 10% reduction in body fat, increased strength and moving without pain, I'm ecstatic with the progress I have achieved so far. ~Joanne
---
Move Freely. Feel Amazing. Live Fully.
Legal Information
PRODUCT DISCLAIMER: The Move Better Mini Mobility Program is a digital product (i.e., downloadable). No physical products will be shipped. After you order, you will get INSTANT ACCESS to download the e-book files and access to video files to view on your computer and mobile devices. The e-book format is Adobe Acrobat PDF and the video files are in MP4 format, all of which can be viewed on any PC or Mac computer (desktop or laptop). You can also view and use the files on iPads, iPods, and most mobile devices (i.e. smart phones), but you may need an app to use some of the files (e.g. to read Adobe Acrobat PDF e-books). You will also receive access to the private Facebook support community.

RESULTS DISCLAIMER: Due to recent FTC laws, it is required that all companies identify what a "typical" result is. As with any fitness program, your results may vary, and will be based on many factors including your individual capacity, previous experience, ability to take action and level of desire. There are no guarantees concerning the level of success you may experience. The testimonials and examples used are exceptional results, which do not apply to the average purchaser, and are not intended to represent or guarantee that anyone will achieve the same or similar results. Each individual's success depends on his or her background, limitations, dedication, desire and motivation.

There is no assurance that examples of past pain free muscle and joint movements can be duplicated in the future. We cannot guarantee your future results and/or success. Nor can we guarantee that you maintain the results you experience if you do not continue following the program. We are not responsible for your actions. Faster results upon first starting the program are common, especially for beginners to exercise and strength training. But the truth is that most people never do anything with the fitness products they buy. So, most of the time, they don't get any results at all.