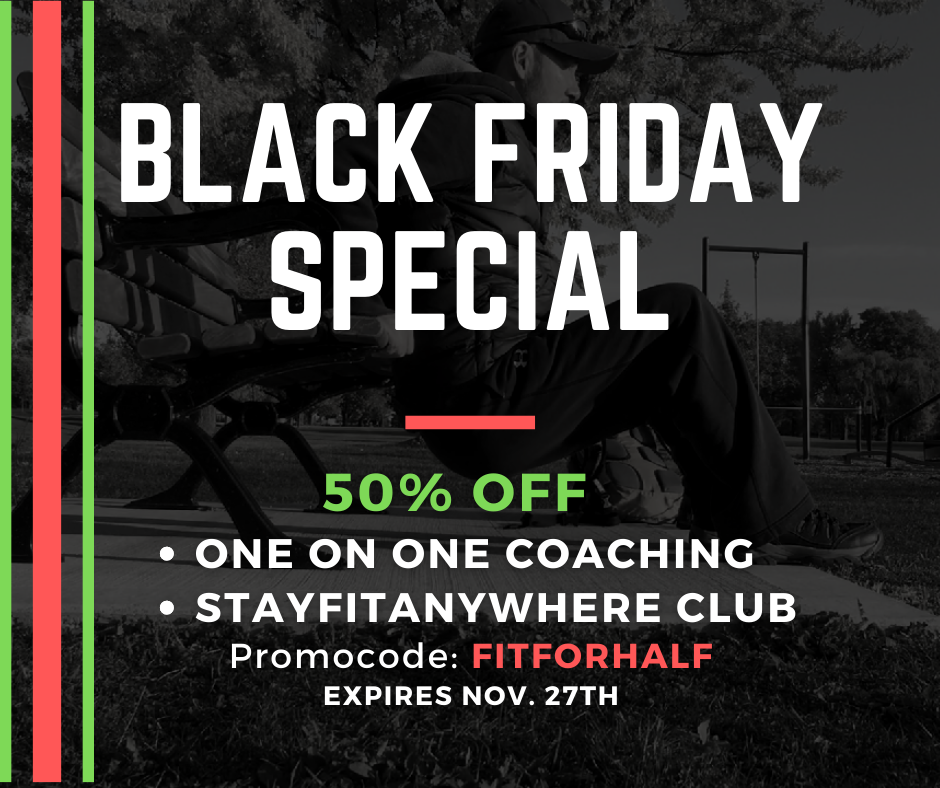 Exclusive Black Friday Special
Expires In:
1 on 1 Online Coaching
Do you want to get back into shape?
Are you confused about what exercises will give you the best results?
Are you lacking motivation and staying consistent with your workouts?
If you answered to YES, then this is the ideal option for you. It's all about personal, custom, motivation and accountability.
Regular Price: $99us/mth
Black Friday Deal: $49.50 for 2 months. Use promocode: FITFORHALF
If you want more details about One on One Coaching , click here.
---
The StayFitAnywhere Club
Are you looking to get fit again?
Are you disciplined at exercising once you get going?
Do you want workouts to help you move better, get lean and feel great?
The StayFitAnywhere Club is designed to get you fit again and help you maintain your overall pain free movements and to keep your body strong and lean. You do this at your own pace and on your own time. And I am there to offer guidance when needed.
Regular price: $29.99us/mth
Black Friday Deal: $14.99 for 2 months. Use promocode: FITFORHALF
For more details about the StayFitAnywhere Club, click here.
---
All One on One Online Coaching includes:
Low risk and safe exercise progressions

On demand exercise routines you can do anywhere

Accountability and follow ups

Accessible on any mobile device and computer s

Instructional videos

Progress tracking

Secured personal account

Access to over hundreds of exercises with photos and videos

Nutritional guidance
It's a small investment for a big reward. You deserve your present early this year!
After payment is received, you will be receiving your personal invite to join my coaching system. See you inside.
---
Want a program you can do on your own?
All our mini mobility programs are only $15 too!
One for your Upper Body to improve your shoulder, neck and back. Click here.
One for your Lower Body to help with your hips, knees and ankles. Click here.
You deserve to look your best and feel amazing through the holidays!

If you have any questions, feel free to email me,joe.cheng@stayfitanywhere.com, and I will answer them promptly.