A workout guide to help fellow busy dads (and moms).
Your first realization of, "What the heck? I'm going to be a dad?!"
Your priorities were going to instantly change. Your life as you've been accustomed to was going to be interrupted. Your sleep was going to be non-existent and your entire life was going to be thrown into chaos, but a welcomed life changing chaos. This was your next chapter in life. Your family. And as your life evolved, so has your fitness.
Now you are trying to figure out how YOU gained more baby weight than your wife did!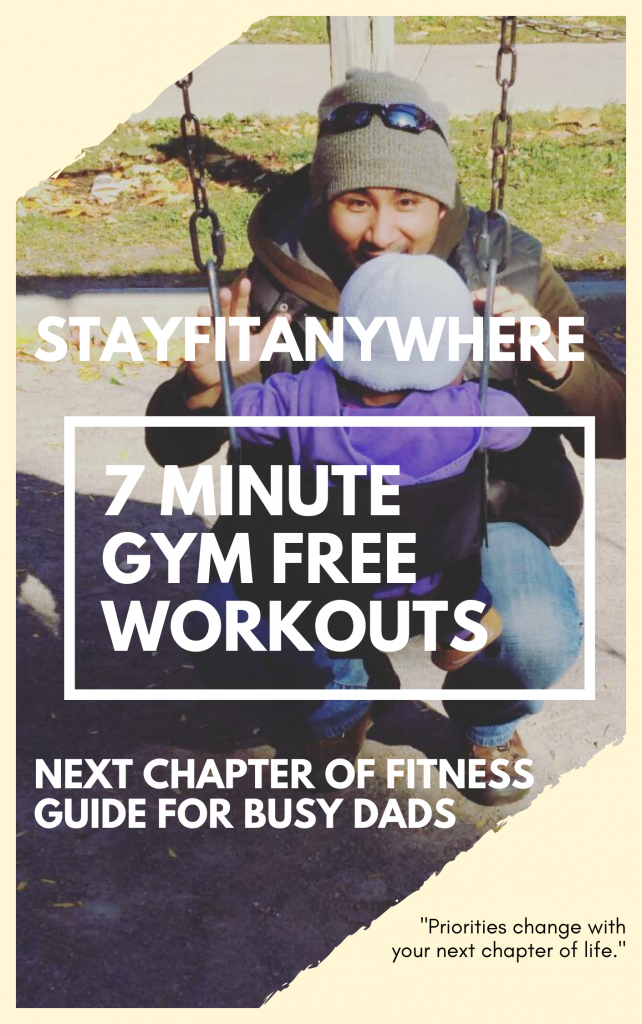 This is your Next Chapter of Fitness Guide. A workout strategy guide to help out other fellow busy dads.

In this FREE guide you will discover:
a variety of options to regain your energy, strength and stamina.
why short workouts are effective in getting you back in shape
videos for bite-sized 7 minute workouts
ab, upper body, lower body, cardio and strength workouts
how to program the mind and space to keep exercising consistently
time and money saving busy dad hacks
As a personal training coach, I understood the benefits and importance of exercise. But dragging myself to the gym after a night of feeds and rocking her to sleep, there was no way I was going to grind out a long workout. So 7 minute workouts fit perfectly into my exhausted schedule.
And now that you're a dad and wanting to keep up with your kids, I get it.
You want to play and roll around with your kid without achy joints. You want the energy to play a game of tag around the jungle gym. And you can be on your way to recapturing your vitality of the past. [And you want to live long enough to see them graduate from University.]
Your workout routine needs to evolve to fit your new lifestyle and I've developed that new routine for you fellow dads.
Are you ready to get fit again? You need my free guide.
Get It Now!
You're ready. You're willing. The Next Chapter of Fitness Guide will help transform your current achy, exhausted you to a slimmer,energetic and stronger YOU!